Price: GBP
28.00
BUY ONLINE
Maternity Khaki Faux Fur Hood Drawstring Parka Jacket New Look. International shopping from New Look
(This price may have changed! Click on the product to visit the New Look site for the current price.)
Coupon code? Voucher? Sale?
Details about Maternity Khaki Faux Fur Hood Drawstring Parka Jacket New Look from New Look:
Maternity. Dress code: cosy. Wear this khaki parka jacket on cold-weather days. - Hooded neckline - Long sleeves - Side pockets - Faux fur trim - Drawstring detail - Bump accommodating - Popper and zip-front fastening - Shell fabric - Regular fit - Estefany is 5'8"/ 173cm and wears UK 10/EU 38/US 6
This product is available to
buy
from New Look
Price: GBP
28.00
Shop online
from New Look
(Visit the New Look site for the current price!)
New Look Discount voucher? Coupon? Discount Code? Sale? - as soon as a new discount is released, you will see it here, below!
Check the price today
at New Look
There might be a sale!
Worldwide Shipping Options at New Look:
Free delivery is available when you spend over the threshold (£65)
Worldwide Delivery Information - click here.
---
A small selection of the products found at New Look
Click on the image for a closer look.
Browse More Products from New Look
SHOP ONLINE
Maternity Khaki Faux Fur Hood Drawstring Parka Jacket New Look. International shopping from New Look
---
---
Online shopping at New Look
New Look - shop for the latest fashion. New Look offers clothing for women, men, teens, children and babies. New Look is a popular fashion retailer in the UK that offers a wide range of clothing, footwear, and accessories for men, women, and children. Their collection includes trendy and affordable fashion pieces, from stylish dresses and tops to comfortable jeans and jackets. With a focus on current fashion trends and seasonal styles, New Look provides options for every occasion. Whether you're looking for casual everyday wear or a statement outfit, New Look has something for everyone, making fashion accessible and enjoyable for all.
More details
about New Look

(8 votes)
---
Buy New Look Maternity Khaki Faux Fur Hood Drawstring Parka Jacket New Look from New Look
£28

SHOP ONLINE
for Maternity Khaki Faux Fur Hood Drawstring Parka Jacket New Look
from New Look
More Information
£25

SHOP ONLINE
for Maternity Khaki Faux Fur Hood Dip Hem Parka Jacket New Look
from New Look
More Information
£35.5

SHOP ONLINE
for Mamalicious Maternity Black Faux Fur Hood Drawstring Parka Jacket New Look
from New Look
More Information
£30

SHOP ONLINE
for Khaki Faux Fur Trim Hooded Parka Jacket New Look
from New Look
More Information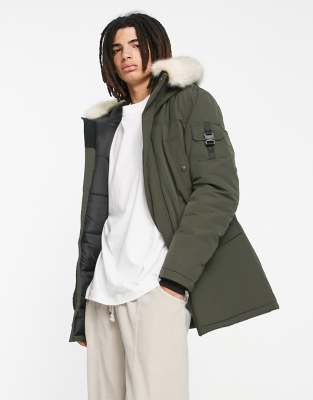 £135

SHOP ONLINE
for Sixth June parka jacket in khaki with faux fur hood and buckle detail-Green
from ASOS - ASOS Outlet
More Information