USD 344.00
BUY ONLINE
MIGNON - VM918BL Halter Color Block Cutout Gown . International shopping from MIGNON
(This price may have changed! Click on the product to visit the Couture Candy site for the current price.)
Coupon code? Voucher? Sale?
Details about MIGNON - VM918BL Halter Color Block Cutout Gown from Couture Candy:
Fascinate the crowd with your pure iridescence in this vibrantly crafted Mignon VM918BL creation. Stunningly tailored in a soft jersey fabric to form a vividly color block style this charmer fancies with a high halter neckline flanked with cutaway shoulders and sultry side cutouts. Various slender strings connect on the inverted Y strappy back that adds a dose of allure to this ensemble. Spectacularly molding along the lush contours the sheath skirt columns down to a full-length hem and a sweep of subtle train. Elevate your style quotient in bounds and leaps in this captivating Mignon masterpiece. Style: nyap_VM918BL Details: Jersey Color Block Cutaway Shoulders Side Cutout Inverted Y Straps Diamond Cutout Invisible Back Zipper Full Length Hem Sweep Train Length: Long Neckline: High Halter Waistline: Natural Silhouette: Sheath This special occasion dress is on Sale! Please refer to our special occasion dress return policy (click here) for more details.
This product is available to
buy
from Couture Candy
USD 344.00
Shop online
from Couture Candy
(Visit the Couture Candy site for the current price!)
Couture Candy Discount voucher? Coupon? Discount Code? Sale? - as soon as a new discount is released, you will see it here, below!
Over 70% off some styles
Activate this discount
at Couture Candy
Shop now!
|
More Details
Check the price today
at Couture Candy
There might be a sale!
Worldwide Shipping Options at Couture Candy:
International Shipping
Delivery within in 2-5 business days
Shipping fee of $39.95 applies
International shipping charges do not include taxes or duties. Please contact your local customs office to request details of these charges.
---
A small selection of the products found at Couture Candy
Click on the image for a closer look.
Browse More Products from Couture Candy
SHOP ONLINE
MIGNON - VM918BL Halter Color Block Cutout Gown . International shopping from Couture Candy
---
---
Online shopping at Couture Candy
Couture Candy - Couture Candy is a premier online destination for fashion-forward individuals seeking designer clothing and accessories. Their website features an extensive selection of stylish apparel, from elegant dresses and chic tops to trendy swimwear and sophisticated outerwear. With a keen eye for fashion, Couture Candy curates a collection that embodies the latest trends and timeless classics. Brands include: Raw 7, Susana Monaco, Da-Nang, Lotta Stensson, Stitch's and Kasil Jeans.
More details
about Couture Candy
(1 vote)
---
Buy MIGNON MIGNON - VM918BL Halter Color Block Cutout Gown from Couture Candy
USD 344

SHOP ONLINE
for MIGNON - VM918BL Halter Color Block Cutout Gown
from Couture Candy
More Information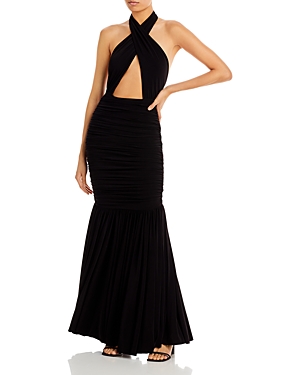 £245

SHOP ONLINE
for Norma Kamali Halter Cutout Fishtail Gown
from Bloomingdales
More Information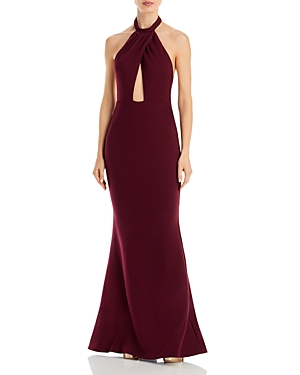 £295

SHOP ONLINE
for Katie May Petra Cutout Halter Gown
from Bloomingdales
More Information
USD 229

SHOP ONLINE
for MIGNON - Halter Neckline Two-Piece Jersey Gown VM1575
from Couture Candy
More Information
USD 344

SHOP ONLINE
for MIGNON - Sequined Illusion Trumpet Gown VM1398
from Couture Candy
More Information