GBP 14.70
BUY ONLINE
DW Home Signature Fresh Brew scented candle 258 g .
International shopping from DW Home
(This price may have changed! Click on the product to visit the Notino site for the current price.)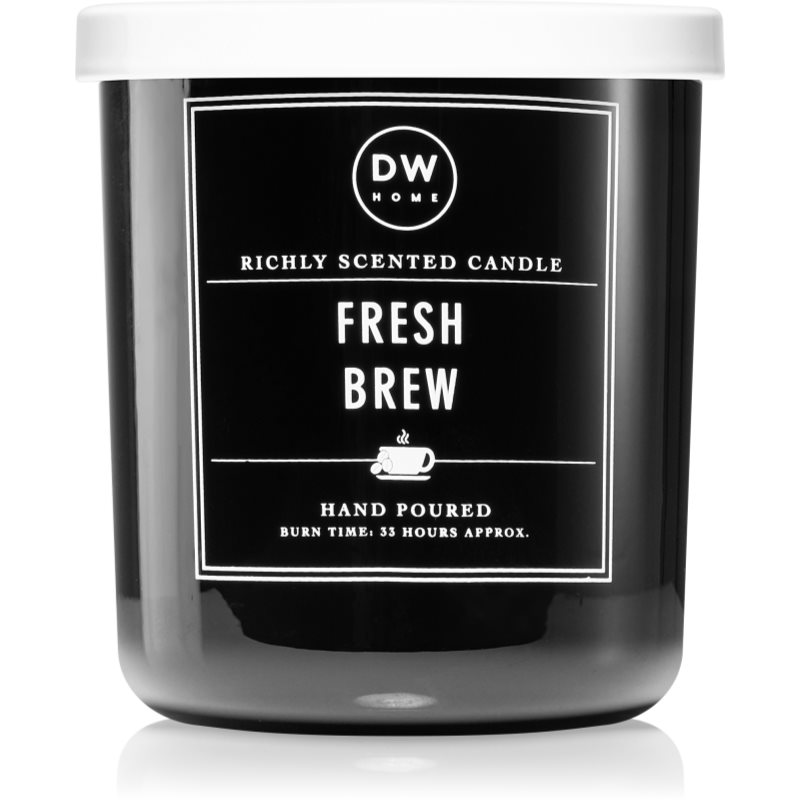 Coupon code? Voucher? Sale?
Details about DW Home Signature Fresh Brew scented candle 258 g from Notino:
DW Home Signature Fresh Brew, 258 g, Scented Candles Home Scents, The DW Home Signature Fresh Brew scented candle will give your home a wonderful fragrance and create a cosy atmosphere that will make you feel great all the time. Characteristics: a sweet aroma a gourmet fragrance handmade Ingredients: cotton wick How to use: Place the candle on a heat-resistant surface. Do not leave to burn for more than four hours. Never let the candle burn to the end. Never leave a burning candle unattended or close to easily flammable objects. Keep out of the reach of children and pets. Always let the candle burn until the surface completely melts to prevent an unwanted hollow in the wax from forming. For optimal burning, we recommend regularly trimming the wick down to the recommended length.
This product is available to buy from
Notino
Price:
GBP
0.00
Shop online
from Notino
(Visit the Notino site for the current price!)
Visit the website to find your special offer today!
Find this discount
at Notino
Click through to the store to see this and more offers.
Check the price today
at Notino
There might be a sale!
Worldwide Shipping Options at Notino:
Free delivery on some products. Add one of the hundreds of "Free Delivery" perfumes and cosmetic products to your order and your order will be shipped free of charge. The list is constantly updated with new, top-rated products.
---
A small selection of the products found at Notino
Click on the image for a closer look.
Browse More Products from Notino
SHOP ONLINE
DW Home Signature Fresh Brew scented candle 258 g . International shopping from Notino
---
---
Online shopping at Notino
Shop perfumes and beauty products at Notino. Notino sell a wide variety of health and beauty items. They offer cutting-edge technology and consistently low prices. Notino are the biggest online beauty shop in Europe, serving 20 million clients while operating in 28 countries. 1,500 brands and 83,000 products!
More details
about Notino
(1 vote)
Why do we partner with the Notino website?
A genuinely personalized present is having your gift engraved!

Using laser technology, Notino can engrave a customized phrase on your perfume or beauty product. Whether it's an expression of love, a significant occasion, or just their initials, Notino can make it happen.

How to order your engraved product?
Simply fill out the message field before placing your order on the product page.

Notino try to ensure that your non-personalised packages are dispatched the same day as your order.

We like this website for the wide range of brands and products. It's rare to find so many luxury and designer beauty brands for sale at such great prices alongside cheap make-up brands. We love being able to do all our shopping in one place. Much more than a perfume shop.

Free gifts with your order!!

Visit the Notino Beauty Blog for Trends, Tutorials, Tips and advice and Reviews.

Virtual Try On - Lips, Eyes and brows, Face and Palettes. Even the cheapest lip pencil can be vitrually tried on by using your webcam or phone camera. Very clever.

Use the Gift adviser and Get the look Categories for inspiration.
---
Buy DW Home DW Home Signature Fresh Brew scented candle 258 g from Notino