Cashmere Contrast Trim Cardigan Peony & cherry. International shopping from Brora
(This price may have changed! Click on the product to visit the Brora site for the current price.)
This style is part of our 30th Anniversary Collection, where each piece was inspired by a design from one particular year, certainly a trip down memory lane! The Cashmere Contrast Trim Cardigan was inspired by a style from 1997. Made from our world-class Scottish cashmere, the clashing rich cherry trims pop against the feminine base and make this a stand-out design that you'll wear for the next 30 years.v necklong sleevesbutton fasteningcontrast colour placket with tipping on edge of cuff
Price: GBP
375.00
Shop online
from Brora
(Visit the Brora site for the current price!)
Brora Discount voucher? Coupon? Discount Code? Sale? - as soon as a new discount is released, you will see it here, below!

Check the price today
at Brora
There might be a sale!
Worldwide Shipping Options at Brora:
Standard Delivery - City Link - Standard*
Cost £4.95. Orders will be delivered within 2 working days from date of dispatch and require a signature. Packages can be left in a safe place or with a neighbour if specified when ordering although this is at your own risk.
* Deliveries to remote areas of the UK such as the Offshore Islands, Scottish Highlands, Isle of Man etc deliveries will take 2 - 3 working days. Deliveries to the Channel Islands may be made by Royal Mail.
Europe
Standard Delivery (3-5 working days)
Rest of the World
You can find out if Brora deliver to your country by checking this list. Antigua Gibraltar New Zealand Argentina Greenland Oman Australia Hong Kong Peru Bahamas India Philippines Bahrain Israel Puerto Rico Barbados Jamaica Qatar Bermuda Japan Russia Brazil Jordan Saudi Arabia Bulgaria Korean Republic Seychelles Canada Kuwait Singapore Cayman Islands Liechtenstein Slovakia Chile Malaysia South Africa China Maldives St Lucia Costa Rica Malta Taiwan Croatia Martinique Trinidad and Tobago Czech Republic Mauritius Turkey Dominica Mexico United Arab Emirates Dominican Republic Monaco United States Egypt Montenegro Uruguay Virgin Is. (British)
Standard Delivery (5 - 7 working days)
---
A small selection of the products found at Brora
Click on the image for a closer look.
Browse More Products from Brora
SHOP ONLINE
Cashmere Contrast Trim Cardigan Peony & cherry. International shopping from Brora
---
---
Online shopping at Brora
Brora - Fine Scotish cashmere clothing. Luxury cashmere for the whole family; throws, accessories, and snuggly jumpers.
More details
about Brora

(5 votes)
---
Buy Brora Cashmere Contrast Trim Cardigan Peony & cherry from Brora
£375

SHOP ONLINE
for Cashmere Contrast Trim Cardigan Peony & cherry
from Brora
More Information
£69

SHOP ONLINE
for Women's Cashmere Fingerless Gloves Peony & cherry
from Brora
More Information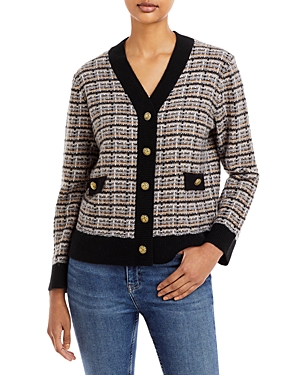 £238

SHOP ONLINE
for C by Bloomingdale's Cashmere Tweed Contrast Trim Cashmere Cardigan - 100% Exclusive
from Bloomingdales
More Information
£59

SHOP ONLINE
for Lace Trim Camisole Peony
from Brora
More Information
USD 505

SHOP ONLINE
for Tory Burch Cashmere Cardigan - Black - S
from Harvey Nichols
More Information