AllSaints Andy Corset Ruffle Denim Mini Dress. International shopping from AllSaints
(This price may have changed! Click on the product to visit the AllSaints site for the current price.)
Dress it up or don't. The Andy Denim Dress plays with proportion. Fitted bodice with paralell seams. The ruffled skirt starts at the waist and adds dimension. Zip closure Off-shoulder Mini length Ruffled layer Seamed corset-style detailing
GBP 119.00
Shop online
from AllSaints
(Visit the AllSaints site for the current price!)
AllSaints Discount voucher? Coupon? Discount Code? Sale? - as soon as a new discount is released, you will see it here, below!
Check the price today
at AllSaints
There might be a sale!
Worldwide Shipping Options at AllSaints:
Orders over £300 are eligible for free delivery worldwide
Orders over £150 are eligible for free delivery in Europe
International Shipping EU - £9.95
International ROW - £24.95
---
A small selection of the products found at AllSaints
Click on the image for a closer look.
Browse More Products from AllSaints
SHOP ONLINE
AllSaints Andy Corset Ruffle Denim Mini Dress. International shopping from AllSaints.
---
Online shopping at AllSaints
All Saints - Edgy fashion clothing for men, women and children. All Saints is a fashion brand known for its edgy and contemporary clothing and accessories. Their collection includes a wide range of stylish pieces for men and women, including leather jackets, denim, dresses, tops, and accessories. All Saints is recognized for its signature blend of raw aesthetics and refined craftsmanship, incorporating innovative cuts, textures, and detailing. With a focus on individuality and urban-inspired fashion, their products offer a unique and effortlessly cool style that resonates with the modern fashion-conscious individual. Embrace the All Saints attitude and make a statement with their distinctive and trend-setting pieces.
More details
about AllSaints

(8 votes)
---
Buy AllSaints Andy Corset Ruffle Denim Mini Dress from AllSaints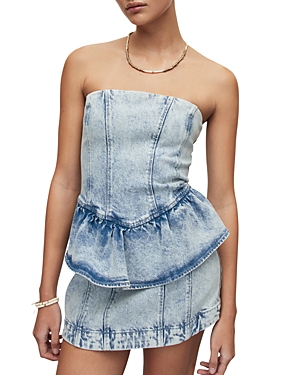 £199

SHOP ONLINE
for Allsaints Andy Denim Dress
from Bloomingdales
More Information